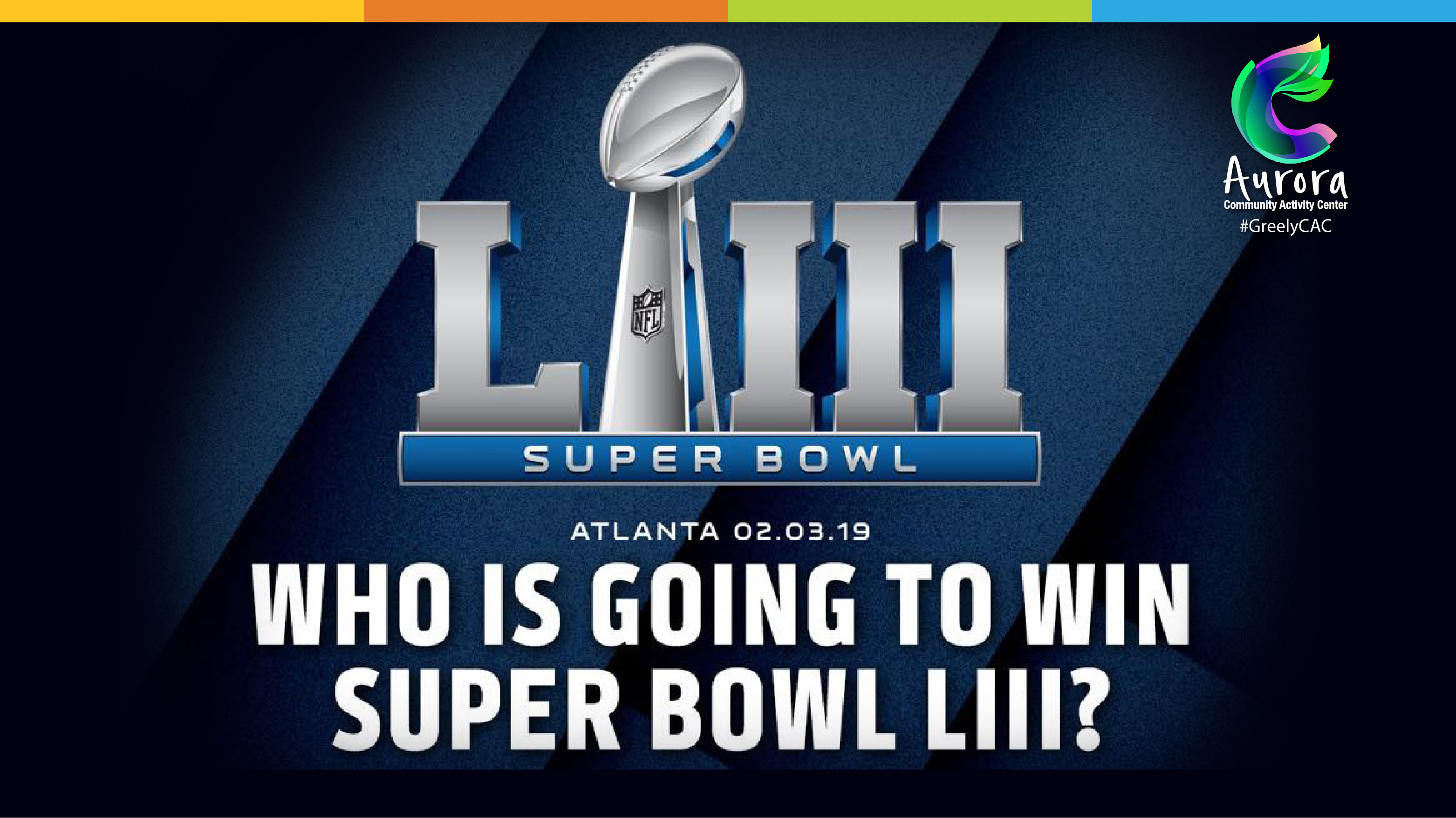 Super Bowl Watch Party 2019
Note: This event has already passed.
Date: Feb 3 2019, 2 p.m. - 5 p.m.
Aurora Community Activity Center - Building 500 Fort Greely Google Map
Football fans, get into the game with our Super Bowl LIII viewing party! Don't miss out on the greatest Sunday of the year. Come on out and celebrate with us a great American sports spectacle! Who is going to win? Free - All ages are welcome.
Date: February 3, 2019
Time: 2 p.m. - 5 p.m.
Punt, Pass & Kick Competition
Here at Fort Greely, we love getting ready for the Super Bowl and celebrating the biggest night in professional sports. This is why this year we have decided to create the Punt, Pass & Kick Competition with fellow Super Bowl-lovers in mind.
PP&K Competition Time: 1 p.m.
Location: Aurora CAC
Punt, Kick, Pass Competition Rules

Scoring

Every contestant is allowed one punt, pass, and kick in this competition. Scoring will be based on both distance and accuracy, and is also determined from where a contestant's ball first makes contact with the ground, therefore excluding any bounces or rolls to the distance.

Tie Breaking Procedure

In the event of a tie between participants, those participants will go head to head again in all three events.

Eligibility

Participants aged from 6 + are eligible, subject to providing proof of age. Both boys and girls can participate; they will compete separately, and in the appropriate age group.

Registration Deadline
Super Bowl Food Special
Pizza Bar $12

3 Slices of Pizza
24oz Soft Drink

Kids Pizza $6

Kids Personal Pizza (Cheese or Pepperoni)
Kids Soft Drink

6 Wings + Beer $10

*Must be 21 years of age to consume or purchase alcohol.
___
Please Note
All MWR Events at the Aurora CAC are open to Fort Greely Authorized Users and FMWR Pass Holders. To obtain a pass or for more information, please call the Aurora Community Activity Center at (907)873-4782.