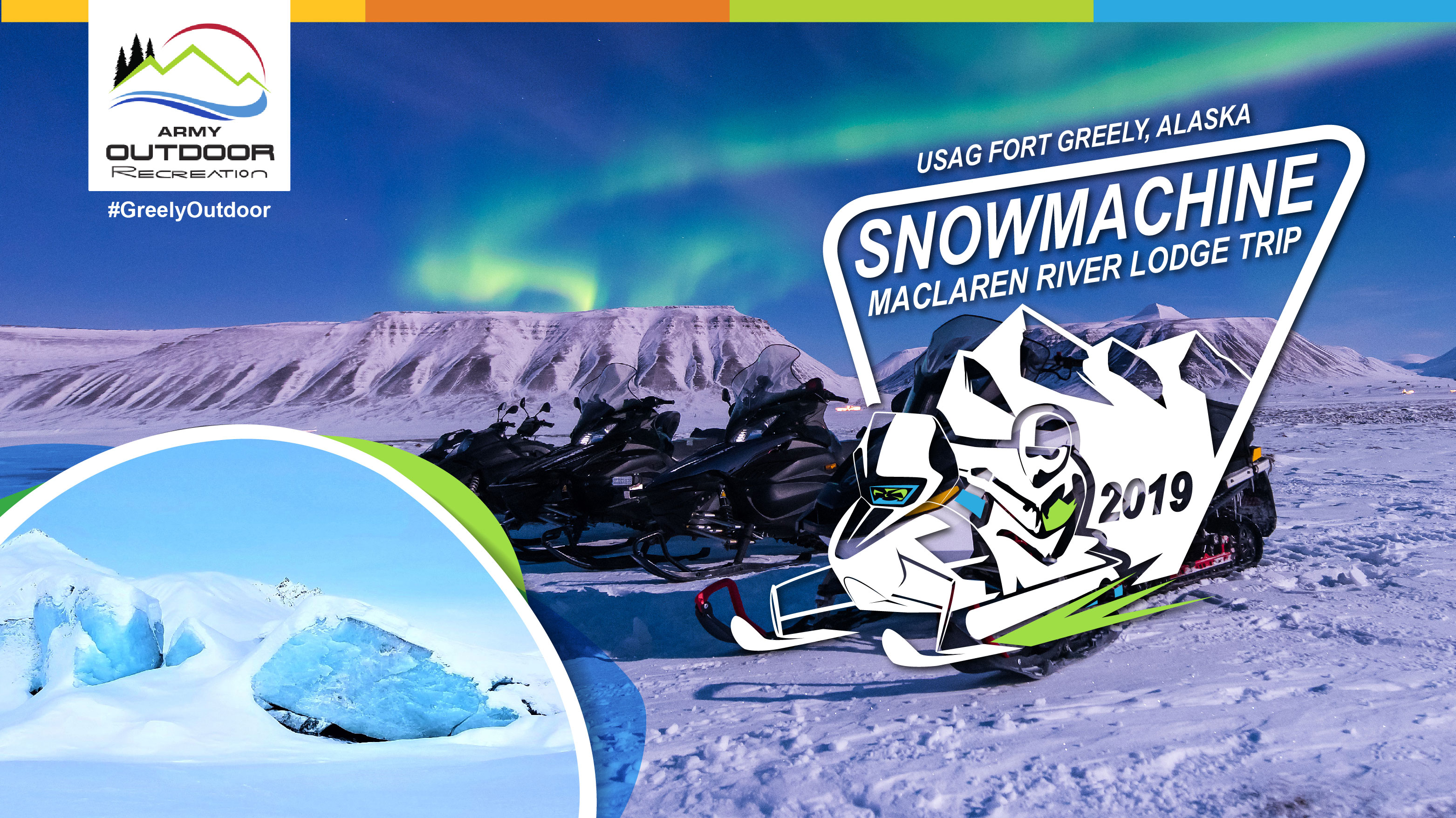 Snowmachine Overnight Trip to Maclaren River Lodge
Note: This event has already passed.
Date: Feb 16 2019 - Feb 18 2019
Outdoor Recreation - Building 627 Fort Greely Google Map
Join Fort Greely Outdoor Recreation on a snowmachine trip into the heart of the wilderness! Enjoy ice fishing, ice cave excursions, spectacular northern lights and endless snowmachine trails to explore. Come on out, your next adventure at Maclaren River Lodge awaits! Participants must have taken snow machine safety training course prior to trip.
Upcoming Trips
February 16-18 - Register by February 9
March 1-3 - Register by February 16
March 9-11 - Register by February 23
Meeting place
Outdoor Recreation, Bldg. 627
Trip is weather dependent. Outdoor Recreation will provide transportation down and back, snow machines and helmets. Be sure to bring your very best cold weather gear, boots, gloves and neck gator, toiletries, snacks and drinks for the trail.
To download the official flyer, please visit the link below:
For updates or more information, follow the fun on Facebook & Instagram: @GreelyMWR - #GreelyMWR
Maclaren River Lodge
The lodge is located on the Denali Highway in the majestic Maclaren river valley near the base of the Maclaren Glacier. This is high alpine country, the Denali Highway is the states second highest highway pass.
Please visit: http://www.maclarenlodge.com/AboutUs.html to learn more about Maclaren River Lodge.
Cost
Affiliated (Soldiers, Families, Civilians, Retirees)
$79 (550 Renegades)
$120 (600 Summit)
Non-Affiliated (Direct Contractors)
$109 (550 Renegades)
$140 (600 Summit)
Cost includes transportation, snow machine rental and fuel.
Lodging Fee: $200 - Meals Included
Registration Info
Registration is accepted in person or over the phone. Please stop by Outdoor Recreation or call (907)873-4058 to register.
Contact