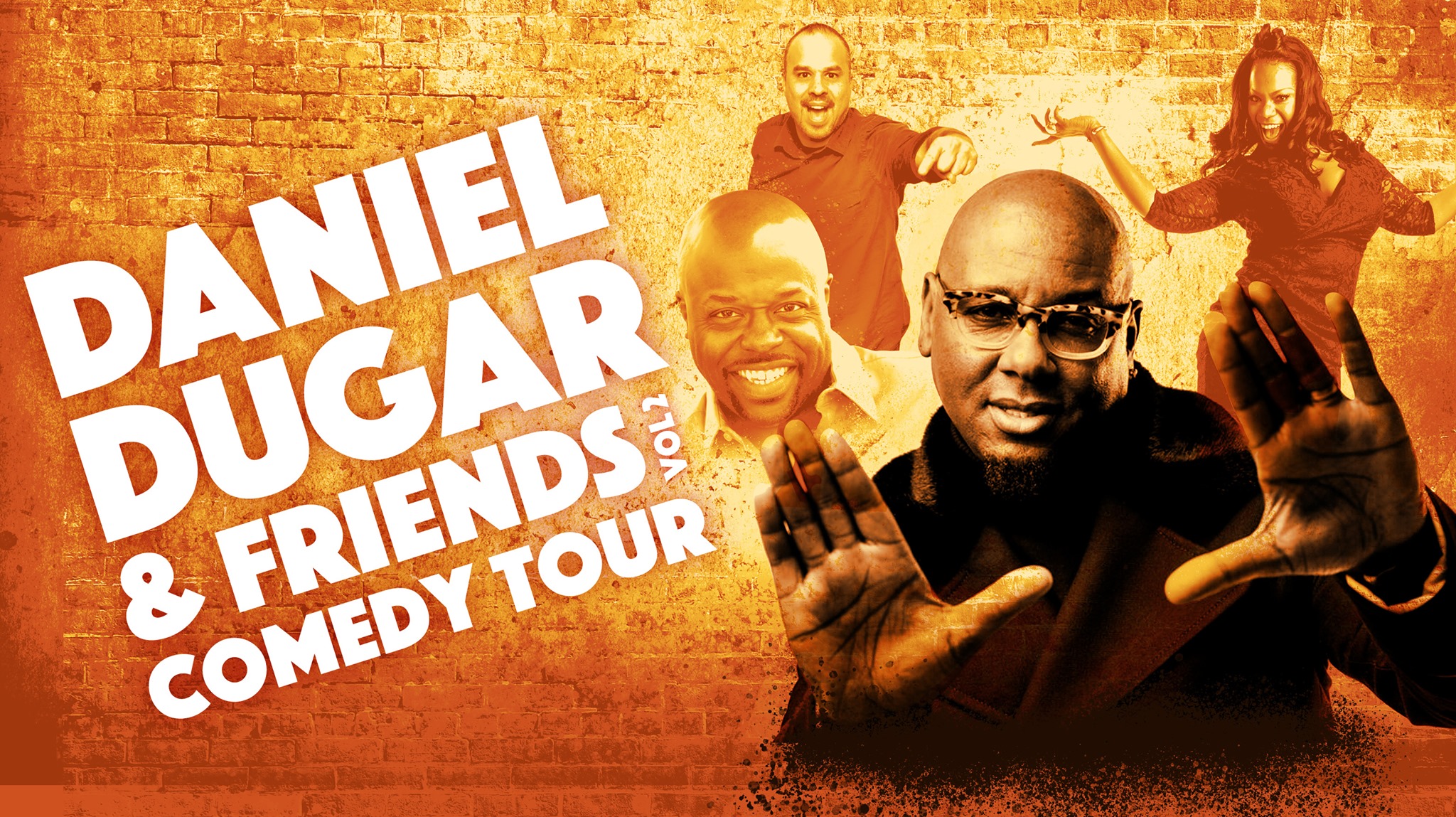 Daniel Dugar and Friends, Vol. 2 - Armed Forces Entertainment
Note: This event has already passed.
Date: Dec 5 2019, 6 p.m. - 7 p.m.
Aurora Community Activity Center - 2020 Robin Road Bldg. 500 Fort Greely, AK 99731 Google Map
LIKE A BREATH OF FRESH AIR, DANIEL DUGAR & FRIENDS RETURNS FOR VOL. 2 THIS DECEMBER!
Daniel Dugar, actor and comedian, headlines the tour featuring Dannon Green, Manny Maldonado, and Shea Suga. This hilarious squad has performed on Def Comedy Jam, HBO, Showtime, and will have you #ROFL.
Special Access is being granted to the General Public. Installation access will require valid photo identification and proof of vehicle insurance.
This show is for ages 18+.
Alcoholic beverages will be available for purchase to Adults 21 years and older.
Performers Bio
DANIEL DUGAR
Born in New Orleans and raised in Oakland, Daniel Dugar is one of the funniest up and coming comics in the country. He's opened up for such acts like D.L. Hughley, Damon Wayans, Cedric the Entertainer, The Kings of Comedy Tour and even musical acts such as Patti LaBelle and Earth, Wind, & Fire. Dugar delivers hard-hitting comedy that is right on the money. He is a fixture of the hip-hop comedy scene and regularly works all over the country. His humorous observation on his personal life and current events along with his quick wit makes Dugar a talent that you are sure to love.
MANUEL MALDONADO
Funny, Energetic, those are some of the words to best describe funny man Manny Maldonado! Manny was born in Modesto California, and raised in an even smaller town called Ceres Ca. He worked odd jobs here and there including as a dispatch supervisor for a medical supply company. As a dare from his friends he tried stand up comedy. The rest was history! A respected , well liked comic in The Stand Up Comedy Scene. Manny's comedic style is best described as relateable , high energy, and no holding back. His unique ability to crossover to a mainstream audience is making him one of the hottest comics working today. Manny has worked with comedians Dave Attell, Dave Chappelle, Tommy Davidson, as well as musical greats Shelia E, Julio Iglesias, Eddie Money, and War. In 2010 along with Emmy Award Winning Actor Bryan Cranston he performed for former New Mexico Governor Bill Richardson. Manny was chosen as a writer for the 2012-2013 CBS Diversity Showcase. He has also performed on The Latin Kings of Comedy tour with Paul Rodriguez. In 2018 Manny performed at Just for Laughs Comedy Festival In Montreal . Manny performs at clubs, colleges, comedy clubs, theaters, and military overseas as well. Manny's television credits include Comedy Central's Comedy Rehab, ABC'S Comics Unleashed, Comedy. TV Galavision's Que Locos, B.E.T. Comic View, Starz Network Stand UP, The Dr. Phil Show as a guest panelist, Kevin Hart's Lol Network. Manny Maldonado can currently be heard on Sirrus XM Radio, Raw Dawg Comedy, and Pandora Radio.
SHEA SUGA
Shea Suga hails from Phoenix, Arizona, where she was influenced by a family of entertainers and show promoters, each of whom deserve their own reality show. Shea made her way to Richmond, California, with her huge family at age 10, and is now acclaimed as one of the Bay Area's most loved and closely followed comediennes. As a promoter, Shea packs the house whether she promotes her own show or one she hosts. Her fans find her to be hilarious and they love her highly contagious smile. Shea's comedy and singing career began in her lively and colorful childhood. As a child, Shea was given to dressing up in her own made-up characters who entertained at family functions. Shea's favorite character, Motha Gertha, is alive and well as a 64-year -old church granny who battles demons and is addicted to glitter and bling. Motha Gertha is loved throughout churches, comedy clubs, schools and corporate businesses all over the California Bay Area. After launching her stand-up career on May 5, 2005, Shea opened for comedian Luenell just two weeks later. Shea has made it to the finals in numerous comedy competitions and took 2nd place in the "U Better Be Funny Competition" in 2008 in Phoenix, Arizona.
Since then, Shea has hosted and featured for headliners such as Sinbad, Sheryl Underwood, DL Hugley, Tommy Davidson, Bruce Bruce, Earthquake, and Lavell Crawford, among others. Shea's comedic style is characterized by engaging story-telling pickled with unexpected, gutbusting one-liners. Shea sparkles on stage in a swirl of personality contrasts and cultural richness that appeal to audiences of all ages and walks of life. She is sometimes endearingly demur, and at other times gutsy as the All-American Woman. She is smooth and poetic as she breaks into jokes about awkward and farcical situations. Shea's sharp wit and intellectualism are inescapable as she peels off humorous twists on tech culture, current events, life as a middle-aged single woman, and celebrities. Shea keep her audiences bound in laughter from beginning to end. Shea studied Screen Writing, Film Production and Theater. Shea is also a hair and makeup stylist by trade and is familiar with all television, stage and film production conventions. Look for Shea in television commercials, an HBO comedy special, and her very own reality show based on the real-life hilarity of Shea's daily existence in the wilds of California's East Bay. Shea is ready to give the world what she gives her fans at home.
DANNON GREEN
An extremely versatile actor/comedian/scriptwriter, Dannon Green is known for his signature stand-up comedy line "I don't want no trouble". He made his television debut on Apollo Comedy Hour, and is continuously making a name for himself.
Hailing from Manhattan, New York and Philadelphia, Dannon possesses mega personality and the ability to keep you laughing. He is a talented comedian and actor who have been in various films, television sitcoms, and national commercials.
He has graced the sets of UPN's sitcoms "Moesha", "Girlfriends", and "One On One", and has worked on the WB sitcom "All About The Anderson's" starring Anthony Anderson and Nickelodeon's "Just Jordan" staring Little JJ. He has also been in the critically acclaimed series, "The Shield", "Everybody Hates Chris" starring Chris Rock, as well as the Starz channel's hit stand up comedy series "Martin Lawrence's First Amendment". As for films, Dannon has been featured in HBO's films Butter, Supreme Sanction, and Desert Thunder. Green was also featured in the film, Baby Boy that was distributed by Columbia Pictures and directed by John Singleton. He's also featured in the film The Luau that stars Brian Hooks and Faizon Love. Dannon is also featured in a new short film that was produced by RSA Films and USA Network called "DUCK" it was directed by Jakob Daschek, Starring Skylan Brooks. He has also been featured on BET's "Comic View" and TV One "The Funny Spot" hosted by Tony Rock as well as BET's One Mic Stand with Kevin Hart. Dannon was also featured on TV One's "Comics Unleashed" with Dick Gregory hosted by Byron Allen. He just released his first Comedy DVD "I Don't Want No Trouble" and is currently working on his New Book "Never Look Back" which is a story about his life. He also can be seen in the most recent McDonalds ad titled "The Barber Shop".
Although he gets some of his comedy from other people's experiences, mostly he gets inspiration from his life experience, a soap opera in and of itself. Ironically, it is his life experience that has given him a competitive edge to be a talented, ambitious, and a promising star.
Extremely strong minded and determined at such a young age, Dannon, made it through all the drama, which included the death of his paternal and adopted mother and eventually made it to graduate school at the Ohio State University where he earned his Masters in computer animation. Giving back he currently works at Five Acres, a home for foster children. Green also has other talents. In 1989-1990 Dannon became a two-time Golden Glove champion in boxing, and he is also an avid golfer. Dannon has also completed two screenplays and is looking forward to more acting and directing in the future.
___
No official endorsement intended.