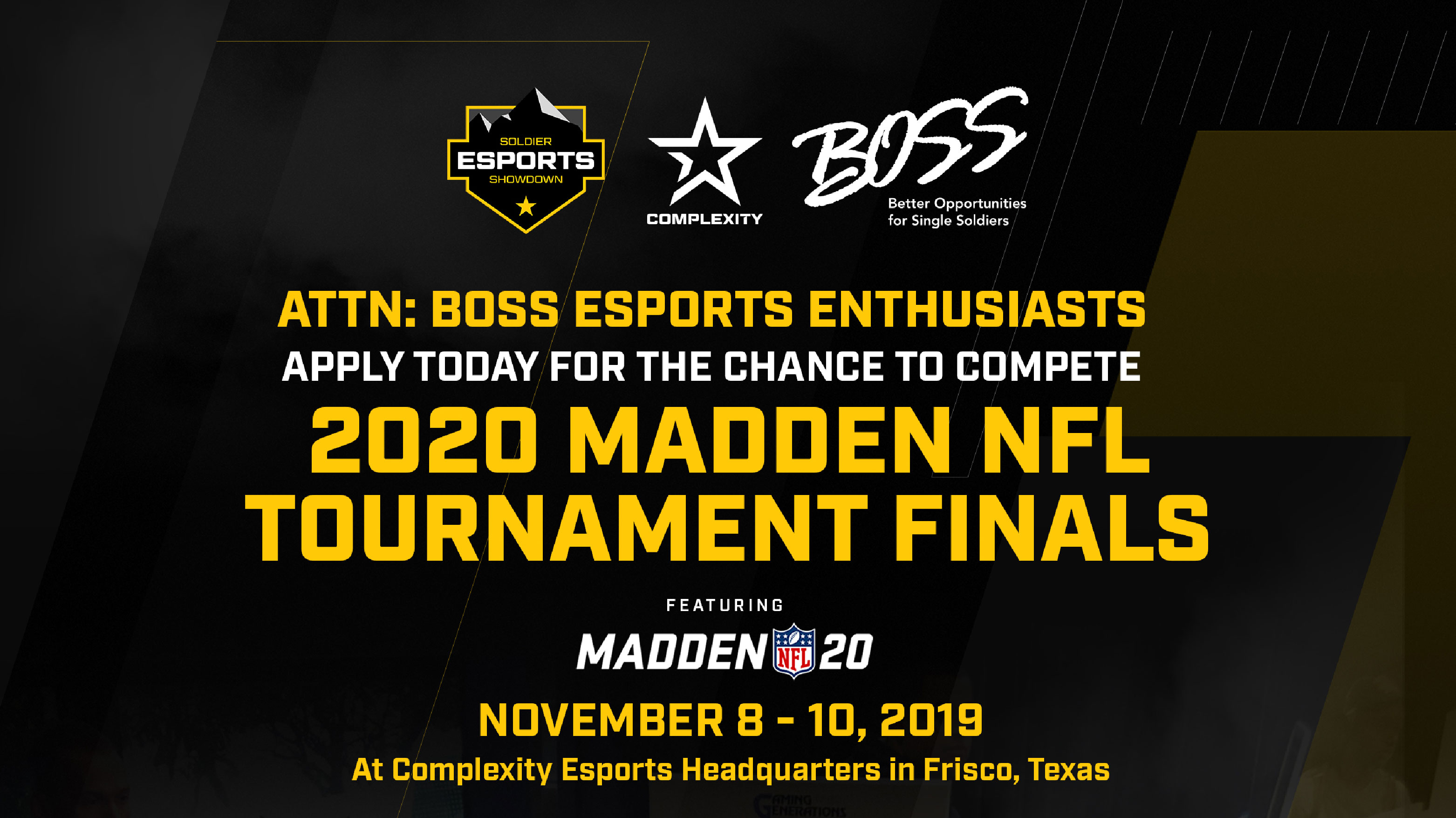 2020 Madden NFL Tournament Finals
Note: This event has already passed.
Date: Nov 8 2019 - Nov 10 2019
Attn: BOSS Esports Enthusiast
Army National Guard, Army Entertainment, AAFES, eSports, BOSS and Complexity Gaming have partnered together for a multi-faceted approach to the world of Gaming.
Apply today for the chance to compete - 2020 Madden NFL Tournament Finals.
November 8-10, 2019
At Complexity Esports Headquarters in Frisco, Texas
Two randomly selected qualified winners [one from CONUS and one from OCONUS] will:
Get a spot in a two-day Gaming boot-camp and Madden finals
Meet and play Madden with Complexity esports pros and Dallas Cowboys alumni
Attend the Minnesota Vikings vs. Dallas Cowboys Salute to Service football game
Don't miss out on this opportunity!
Applicants must be experienced Madden players and be approved by their command to be in Texas from 7 - 11 Nov 2019. Applications will be accepted through 18 October. Winners will be announced 21 October.
Complexity Esports BOSS Experience - Madden Open

Click here to download the official flyer.

Return completed application NLT 18 October 2019 via email to: usarmy.jbsa.imcom-hq.mbx.army-entertainment@mail.mil
If not selected as one of the two finalists, BOSS Soldiers can still qualify for the finals by winning an online Madden tournament on 26 October in your time zone. For more details, visit www.armymwr.com/esports